JAC 12th Physics Important Question 2022-2023
Do you searching for JAC 12th Physics Important Question 2023 or JAC 12th Important Questions with Answers pdf, Are you preparing for JAC Board Class 12th Exam 2023, Do you want to score good marks in your board exam, if your answer is yes then this article is only for you in this article you will get Jharkhand-JAC Board Class 12th chapter wise physics important questions as PDF format for JAC 12th Board 2022-2023 Examination.
Importance of JAC 12th Physics Important Questions 2023
We know that Physics is most important subject for Science stream students and physics is just not a important subject in science stream it is very interesting and useful subject to understand the nature and its phenomenon in our daily life, Everyone know its importance but so many students face the problem with its Derivation, Numericals and concepts, So JAC Board Class 12th Physics Important Question for Class 12 is very very important for every students who face this problems in their student life.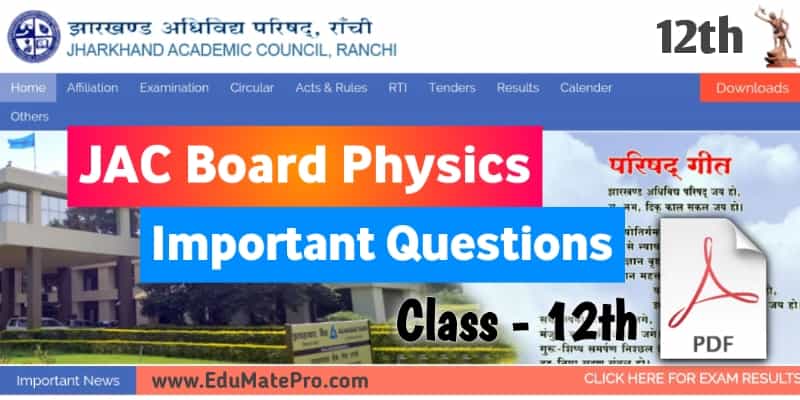 What is Physics? JAC 12th Physics (NCERT)
We already know its definition in lower class which is "Physics is the branch of science in which deals with the nature and its phenomena" in simple word we can say everything which we see around us that is Physics such as flow of wind, the motion of Vachel as well as the motion of a smallest particle. if we talking about JAC Board Class 12th Physics then it is completely Based on NCERT, such as Syllabus, Books etc everything is based on the NCERT.
Physics is most interesting Subject in Science stream and also called it is the king of Science stream and there is a fomus quote "Physics is the King of Science while Mathematics is the Queen" means in whole physics you'll get mathematics too, mathematics is most important Subject for Physics Subject, if we talking about derivations, numericals and Theory, we usually use the mathematics while studying Physics so mathematics is very very important, if you interested in Physics then you also have to study mathematics prefect way and from basics then you'll understand all the concepts and numericals of Physics and You'll fall in love with Physics.
Download JAC 12th Physics important questions 2022-2023
Here you will get all the important questions for all chapters (1 to 15) as well as JAC Board Long Type Important Question which carry 5 mark of each questions also get Short and Very Short Type Questions which carries 2 and 3 Mark respectively, also includes Some Numericals of JAC Board Class 12th Physics, which is very very Important for every students who appearing the JAC Board Class 12th (Physics) Board Exam 2022-23 and everyone can download the JAC Board Physics Important Question as PDF format through the given links below.
People/Students also search for these quories:-
JAC 12th Physics Important Questions with Answers | JAC Board Physics Important Question | JAC 12th Physics Important Questions 2022-2023 | Important Question for class 12th Physics | JAC Important Question of physics Class 12 2023 | Jharkhand Board Class 12 Physics vvi imp Questions 2023 | JAC-Jharkhand Board Physics Important Questions with Answers 2013 PDF Download
JAC 12th Physics Important Questions 2022-2023